Landis+Gyr E850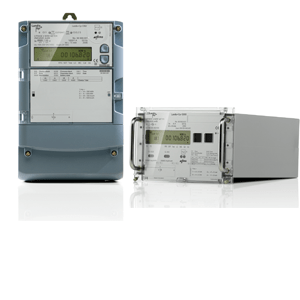 Supreme metering precision
The E850 is a high-precision electricity meter designed for power plants, photovoltaics, on-shore and off-shore wind farms, transmission networks, substations, railway infrastructure and grid-connected commercial and industrial consumers.
The exceptionally fast measurement system, high data resolution and proven operational security make E850 the preferred choice for customers seeking to improve billing accuracy, network operation, electricity exchange, load frequency control, measuring and recording flows of electricity and other grid applications.
The grid meter offers top accuracy and long-term stability in energy measurement under all operational conditions. The highest metering accuracy generates savings for the customers and the precision is guaranteed even at the lowest load of 2% in a singe phase operation, unbalanced or cos φ below 1. The E850 powerful measurement system is five times faster than in industrial meters and it provides sufficient resolution for capture periods under 15 minutes (1 to 5 minutes) and accurate measurement when energy direction changes.
With the track record of successful deployments across 70 countries worldwide, the E850 metering solution has proved its reliability and top performance in all types of environments.
The E850 grid meter is available in two main versions:
E850 f6 wall mounted
E850 f9 rack mounted
Features
Accuracy class 0.2S / 0.5S for active energy and 0.5S / 1 for reactive energy
50/60Hz and 16 2/3 Hz (for railway infrastructure)
8-digit liquid crystal display (LCD) for local reading of data
Exchangeable communication modules (RS 232 / RS 485 / Ethernet / GSM / GRPS / UMTS (3G))
Integrated optical interface and RS485 serial interface with DLMS protocol
Communication with several third-party suppliers
Up to 8 transmitting contacts (for energy flow, load supervision (Pmax, Qmax), capture period)
4-quadrant measurement (+P -P, +Q -Q, Q1..Q4)
Measurement of instantaneous values of phase voltages and currents
Phase angle measurement and detection of direction of rotating field
Monitoring of instantaneous values of voltage (unbalance, over/undervoltage, outage) and current (unbalance, overcurrent)
Voltage dip table
Tariff control
Time-of-use (TOU)
Load profiles
Daily snapshot
Stored billing value profile
Bypass feeder operation
Event logs
Three software configurations
Variations
Depending on software configuration additional meter functionalities are available:
Harmonics and total harmonic distortion (THD) monitoring
Line and transformers losses measurement
Total losses of active and reactive
Overload supervision of the line
CT/VT error correction
Single phase energy measurement
Average demand, maximum and cumulated maximum demand
Apparent energy measurement
Power factor monitoring
Frequency monitoring
Downloads