Landis+Gyr E570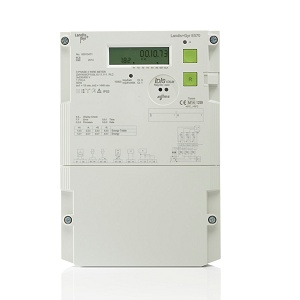 Interoperable current transformer connected meter with AMI functionality
In a liberalized market environment utilities strive to secure their long-term investments and supply chain by enhancing their infrastructure with future-proof interoperable smart metering solutions that would allow their intelligent transition to smart grids. For the easy integration of commercial and light industrial customers as well as residential customers with high electricity demand, Landis+Gyr has developed the E570 meter series as the first generation of IDIS interoperable current transformer (CT) connected meters with AMI functionality for low voltage applications.
The E570 is available either with PLAN+ PLC two-way communication or with cellular point to point 2G GSM/GPRS via the exchangeable E57C communication module. Integration of both versions in Landis+Gyr's end-to-end smart grid solution Gridstream® is scheduled for end 2015.
Powerful functionality set for advanced energy management
Based on the proven E450 meter platform and selected capabilities of Landis+Gyr's commercial and industrial E650 meter, E570 is tailored to specific utilities' needs, such as powerful automatic meter reading, power quality measurement, low voltage transformer monitoring, and load and demand control. The extensive registration concept combined with the large storage capacity produces a comprehensive collection of smart data that delivers actionable insights for energy companies. The multi-energy gateway functionality for gas, heat and water meter reading further enhances the E570 outstanding capability for centralized smart energy management.
Secure investments thanks to IDIS Interoperability and high level security (HLS)
Interoperability is crucial for utilities to flexibly extend and adapt their metering infrastructure in compliance with their evolving strategy, while maintaining freedom of choice for sustainable procurement. The E570 has been tested and certified according to IDIS (Interoperable Device Interface Specifications) package I and conforms to open international interoperability standards, ensuring seamless integration into a utility business system.
In addition, E570 complies with the HLS specifications of IDIS package II for data communication, which makes it one of the first interoperable devices to support unauthorized access protection, data integrity and consumer data privacy according to the IEC 62056 standards.
Features
Two-way communication with either PLAN+ PLC or 2G GSM/GPRS point to point (P2P)
High Level Security with cryptographic protection for access and applications
Recording of active and reactive energy in all 4 quadrants with up to 9 rates
Up to 5 profiles, 10 event logs, 4 multi-energy logs and 2 certified logs
Network and power quality monitoring
LV transformer monitoring
Load control and limiting functionality with external disconnector control for safety
Last gasp functionality for real time outage alert (P2P GSM/GPRS types only)
Multi-energy capability (gas, water, heat) with wired MBUS
Comprehensive anti-tampering features such as protection against cover manipulation, magnetic field detection, authentication, certified log, etc.
User friendly LCD display with 9 digits
Firmware separation and update according to WELMEC (Western European Legal Metrology Cooperation) association
E57C exchangeable module in P2P GSM/GPRS version
Variations
PLAN+ PLC communication 3 phase 4 wires
PLAN+ PLC communication 3 phase 3 wires
P2P 2G communication 3 phase 4 wires with last gasp
P2P 2G communication 3 phase 4 wires without last gasp
P2P 2G communication 3 phase 3 wires with last gasp