Transmitters Landis+Gyr FQD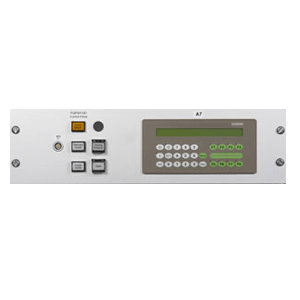 The universal solution suitable for all couplings
Landis+Gyr FQD transmitter family is universally suitable for series or parallel couplings at all voltage levels.
Up to four FQD transmitters can be parallel-operated giving a combined rating of 1680 kVA (4 x 420 kVA) for high voltage injection, e.g. at bulk supply points. Integrated output transformers protect the transmitter against high frequency transient capacitive voltages from the high voltage networks. The output voltage supervision and current regulation are inherent features for a reliable signal level in the distribution network. Field-proven technology ensures excellent long-lasting signal broadcast combined with lowest harmonic distortion and robust operation with protection against short-circuits and no load conditions. High EMC (Electromagnetic Compatibility) immunity is delivered for the highest operational security.
Compact and modular architecture
Use of 19″ technology makes it possible to manufacture most transmitters in standard cabinets. The easily accessible modules can be quickly replaced. The compact transmitter construction leaves room for other components, such as local controllers, check-back receivers, line filters, ammeters, modems and GPS for output frequency synchronization.
Programming and Operation
Both Landis+Gyr transmitters have an operating panel and a PC-based service software for setting parameters and performing diagnostics. The built-in system recorder logs events together with the relevant operating values. Transmission problems and their causes can be determined during operation. The service software displays the logging data on screen. Landis+Gyr transmitters provide helpful emergency control interfaces for the eventuality of a local or central controller malfunction. It supports remote operation via cellular or wide area network (WAN).
Variations
1-phase, low voltage injection
3-phase, medium voltage injection
FQD2, 40 kVA, 60 A
FQD3, 80 kVA, 120 A
FQD4, 100 kVA, 150 A
FQD5, 160 kVA, 250 A
FQD6, 280 kVA, 424 A
FQD7, 420 kVA, 610 A
3-phase, high voltage injection
FQD8, up to 1680 kVA, 2440 A
Downloads