Landis+Gyr FTU Ripple Control Receivers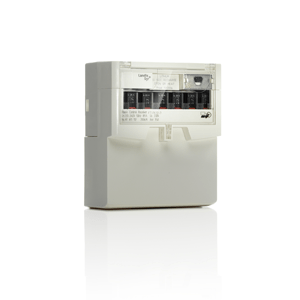 Smart combination of ripple control and timers with remote parameterization option
Ripple Control is a mature and cost-effective technology for tariff and load control. Landis+Gyr Ripple Control Receivers FTU cover a wide range of applications from simple remote switching of the relays to individually programmable yearly time switch and remote parameterization as an option. The new receiver type FTU2 supports frequency changes and operates autonomously underfrequency load shedding.
FTU233 / FTU663
Landis+Gyr FTU Ripple Control Receivers support the "POWER RIPPLE" function concept with yearly time switch, remote parameterization as well as a wide range of autonomous and time switch functions.
The integration of ripple control and time switch functions in one device offers a unique flexibility. Depending on the device type, up to six 25 A changeover switches or 40A relays can be plugged-in and individually parameterized via interpreter programs.
The following types are available:
FTU233 with up to 3 plug-in power relays and compact housing
FTU263 with up to 6 plug-in power relays
The operation mode Ripple Control with remote parameterization combine the benefits of mixed operation (Ripple Control telegrams + timer) with an increased flexibility for future tariff modifications. Additional time lines can be remotely modified, disabled or released, and interpreter programs directly controlled. In addition, remote time, date, weekday and part program synchronization is also possible for utilities operating TOP-Option Controllers and SEMAGYR-TOP addressed receivers.
Thanks to fast reaction during load peaks, the FTU2 receivers actively support the utility's efforts to ensure power supply quality. In case of frequency drop in the network, the receiver will automatically shed a predefined load to prevent overload. The reaction time, the under frequency load shedding value, as well as the return of the load to the network, including the fixed and random delay values are freely programmable.
The FTU2 is the optimal receiver solution for utilities preparing a Ripple Control frequency changeover in their network. The receiver can be parameterized with two different control frequency values. The frequency changeover is easily activated via a ripple control command.
Parameterization Software RTP01 for PC and notebooks
The parameterization software RTP01 allows easy programming of the receivers. Up to 24 programs can run in parallel, 4 of them with random time functions. Data transfer takes place via infrared interface or remotely via the SEMAGYR-TOP transmission protocol.
Field Programming Software RPT01mobile for PDA's
RPT01mobile is a software application that can be installed on PDA's running Microsoft Windows Mobile 5.x or 6.x and allows easy onsite parameterization of Landis+Gyr receivers and load switch devices.
Any data files generated with the parameterization software RPT01 can be assigned to each relay. Thanks to a smart search function, parameter sets can be easily selected and uploaded into the receiver.
Functions
Yearly time switch
Remote parameterization
Timer operation with holiday calendar and summer/winter time
Time and memo lines
Astronomical calendar for street lighting
Learn function for switching times
Memory for 16 independent switching programs
Relay confirmation
Automatic pulse deviation correction
Signal level storage of last message
Programmable behavior during power outage and return
Transmitter outage detection
Eventlog memory for 2'500 inputs
Operation status display via LED
Test button
Underfrequency load shedding
Frequency changeover
Variations
Operating voltage 110 V
Custom parameterization on order
Plug-in battery module with 1 year operating autonomy
Large terminal cover
Test button accessible from the outside
Downloads
FTU233 in compact housing (100mm) with up to 3 25A  plug-in power relays
FTU263 in standard housing with up to 6 25A or 40A plug-in power relays