Landis+Gyr L320 compact ripple control receiver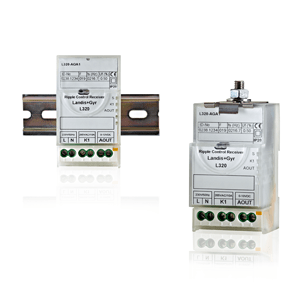 DIN-Rail receiver for load switching and flexible public lighting
The L320 is the optimal ripple receiver to control and dim energy efficient LED or sodium vapor street lighting. The DIN-rail mounting option allows easy installation in light poles and heads. L320 is small, versatile, robust, reliable and easy to integrate in all known ripple control systems. Thanks to additional output options, L320 is also the receiver solution for all applications with little mounting space.
Advanced functionality
L320 supports the same function concept as the advanced FTU receiver, with intelligent annual time switch, remote parameterization and reception frequency switch, integrated grid frequency measurement and load shedding, as well as a wide range of autonomous and time switch functions.
User friendly parameterization is done via Landis+Gyr proven parameterization tool RPT01, either via optical interface or remotely with Semagyr-TOP.
Leverage your ripple system to control and dim LED or sodium vapor luminaires
L320 features several dimming options either with 0-10 V or current sinking and sourcing outputs, making it an ideal receiver to switch or dim state-of-the-art LED lamp poles or sodium vapor lamps with ballast controlled via ripple system.
The L320 offers new street lighting opportunities to utilities and municipalities:
Implement light points where no switched phase is possible
Implement half-night lighting with a single switched phase
Lamp dimming with a single switched phase
Optimize use of LED lamps thanks to analogue output 0-10 V
Additional outputs for other applications with little space:
Use L320 with 2 A relays outputs to switch signal voltages, e. g. for tariff control in eHZ electronic meters
L320 with 1 40 A relay for high switching currents has been especially designed to control boilers in the southern hemisphere
Additional opportunities due to versatile mounting concept – DIN-rail 35mm, holding clamp with M8 threaded bolt, wall-mounting – as well as accessories.
Features
Protected against spray water and highly tamper-proof
Intelligent annual time switch
Remote parameterization
Astronomical calendar
Learning function
Transmitter outage detection
Event log with 2500 entries
Load shedding
Remote reception frequency switch
Backup clock as option
Downloads

Landis+Gyr Load Management Brochure