Landis+Gyr E350 Series 2 Electricity Meter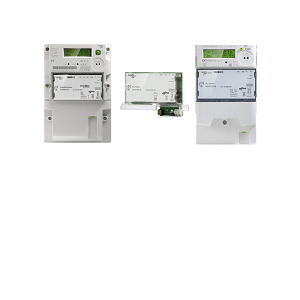 The answer to your Advanced Metering Infrastructure needs.
Our new generation of modular residential meters is both customized in functionality and future-proof to protect your investment. Additionally, they are optimized for life-cycle performance in the residential sector.
Electronics
Active and reactive measurement
Accuracy up to Cl 1 resp. Cl B (MID) [active energy] and Cl 2 [reactive energy]
Wide range measurement from starting current to maximum current
Up to 6 rates possible
Multi-energy ready (can show values from other electricity, gas, water and heat meters on the display)
Large liquid crystal display with maximum 8 digits and high resolution
Button for display control
Optical interface
Optical test output
Functions
Installation support
Upgradable with modules
Easy installation and exchange of modules
Anti-tampering package
Housing
Glass fiber reinforced, antistatic
Wiring diagram can be shown on face side
Optimized AMM system investment
Modular future-proof AMM system with meters, concentrators, remote data acquisition and data evaluation in the central station based on field-proven Landis+Gyr technology
Downloads
ZxF100 meters offer a maximum for future market requirements, therefore, protecting your investment. It is the solution for your investment protection for the future, and a maximum of flexibilty towards the future market requirements.
Benefits
Expandable for future functions
Upgradable for futre communication needs: flexible remote communication due to the exchangeable communication modules without breaking approval seal
Enhanced installation comfort with embedded service functions
Additional functions against meter manipulation reduce non technical losses