First GM-EEG (S750) grid modules installed by Netze BW in Germany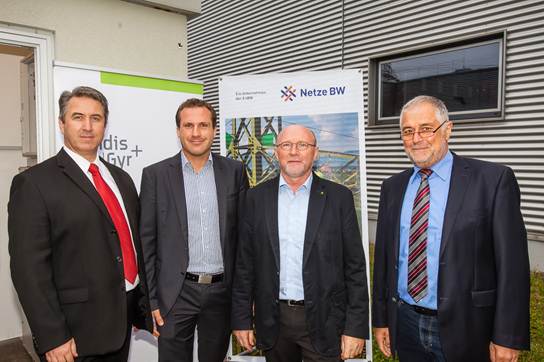 In the town of Wendlingen in Baden-Württemberg, the very first Landis+Gyr GM-EEG (S750) grid modules were installed in August this year. These modules were developed in cooperation with EnBW, Netze BW's parent company, in order to meet the needs of decentralized renewable energy sources from 100kW to 1MW. The GM-EEG grid module is compatible with the present SyM2 solution*, and has been designed to work with future versions of this technology. Following intensive lab testing these new units are now ready to be installed in the field, and Netze BW expect to install more than a hundred before the end of the year.
The first units were installed in a rooftop photovoltaic array, run by EnBW directly. With an output of 800kW, it is the perfect size facility to act as the test bed for the new technology.
New regulations that come into force January 1, 2016 require all decentralized energy sources with an output of more than 100kW to have functionality that allows the energy generated to be distributed to the network directly. The GM-EEG grid module was developed specifically to meet these requirements, but it also allows companies to have real-time information from individual solar generation facilities, enabling quick responses to changing grid conditions. Active and reactive power can be switched and controlled as needed. In addition to this, energy generation plants controlled with grid modules will be fully integrated into the current SCADA system infrastructure.
Following successful installation in Wendlingen, EnBW will continue the rollout of grid modules in their photovoltaic generation facilities across Baden-Württemberg.
Footnote *: SyM2, or "Synchronous Modular Meter" is a German metering standard for commercial and industrial applications introduced by the German consortium of utilities RWE, EnBW and E.ON in 2005.
Related content
Blog: Landis+Gyr delivers prototype of grid module GM-EEG (S750) to EnBW
White Paper: SyM2 – E750: The Answer to Market Challenges